Bus Service
Niigata Kotsu Sado
Phone: 0259-57-3200
Address: 80 Kawaharada-Suwamachi, Sado Island, Niigata
URL: http://www.sado-bus.com/
Offices are located in Ryotsu Port, Aikawa, and Sawata.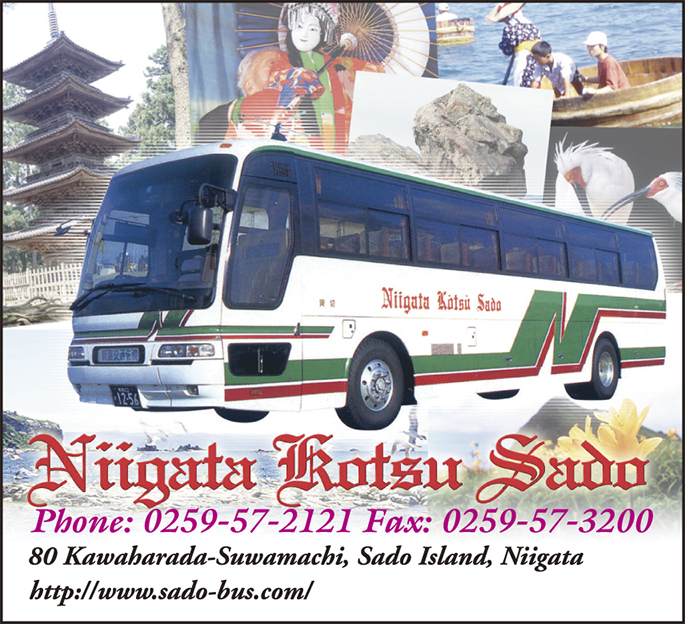 Niigata Kotsu Sado runs fixed-route bus services throughout the island. Bus fares for fixed-route buses are calculated based on the distance traveled for each trip. It starts with a minimum fare of ¥210 and incrementally increases up to the maximum of ¥840. (There will be no increase once it reaches the maximum. (Also see Hop-on Hop-off zones.) Please have small change (coins) or a ¥1,000 bill ready before getting on the bus. The fare machine and bus driver cannot accept bills larger than ¥1,000. A series of 1-day, 2-day, and 3-day Passes for fixed-route buses are available at a cost of ¥1,500, ¥2,500, and ¥3,000 respectively. Those passes are sold at our information offices in Ryotsu, Sawata, and Aikawa, and Sado Kisen Niigata Port and Naoetsu Ports, and on the bus—please have the exact amount ready in this case. (Sado Niigata Pass— an available options for JR Pass holders—come with one Three-day Pass). One-Day Passes can also be purchased on Sado Kisen ferry boats. English bus timetable is available at information offices. We also offer sightseeing bus tours daily. Contact us for availabilities, rates, routes, and schedules.
Fixed Route Bus lines are identified by number. 
Most buses displays a sign on the LED destination board (or behind the windshield) indicating its line number with a capital letter of the destination (e.g. 2S means the bus is bound for Sawata on Line #2, Minami Line). New vehicles have the LED destination board displaying line # with the destination in bilingual.
Dashed lines indicate Hop-on Hop-off zones.