Convenient Bus Ride Hop-on Hop-off Zone
Dashed lines are "Hop-on Hop-off Zones, where you can catch a bus anywhere in the zones.
Hop-on Hop-off is not available in the solid colored lines; buses stop only at regular bus stops.
* Bus fares are calculated based on the distance traveled for each trip. 
* No transfer ticket is provided. 
How to Use Hop-on Hop-off Buses?
Raise your hand so that the bus driver can easily recognize you. (Do so at a safe location and avoid blind corners, intersections, steep slopes or other areas at which it may cause traffic disruption.)
Use a regular bus stop where Hop-on Hop-off is not available (indicated in the solid colored lines).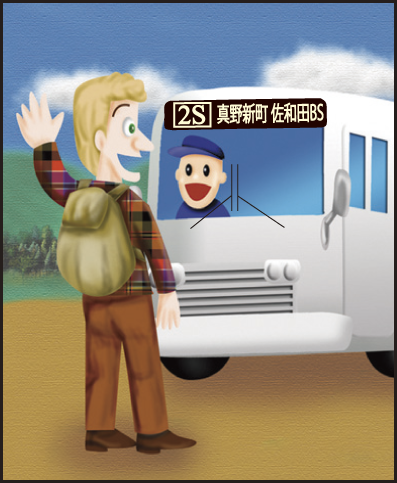 Take a numbered ticket from the dispenser when you get on the bus. This ticket will be used to determine your bus fare when you get off. No ticket is coming out of the machine when the bus is at the starting point of its service. If this is the case, you are a no-ticket passenger.